Safe Personal Mobility at your Convenience – that was always paramount and now is transformed to another level. In addition to high levels of hygiene, a radical shift towards less contact is the preferred way. AVIS offers to employees of corporate " Flexi 12 "- THE alternative solution to shared mobility or subscription
The winning advantage is to simply use it for 12 months for a fixed rentals and always get to drive the latest launched car every 12 months:
Some added benefits :

Get a New Car of your choice and switch to another one thereafter – all at 100% financing
Opt for the Kilometers that you need for 12 Months
Avis registers the car in its name – no hassles of ownership
Private Registration with Private Insurance Policy – just like your own car
Car stays exclusively with you for the contract, unlike subscription which may move from one to the other
No down payments, just a deposit is good
Commitment for 12 months only – no strings attached
Employees pool & share costs instead of using Subscription/ rental cars / shared transport
Ideal for staff on short projects or their temporary deployment
All services included and avail through the On Line Portal
Option to extend the period
Option to buy the car if you like it
Continue to avail tax break on the rentals
It brings for you all of the above with our contactless services bundled in, that already is enjoyed by over 5000 Senior Leaders in over 450 Corporate across India.
Advantage Flexi 12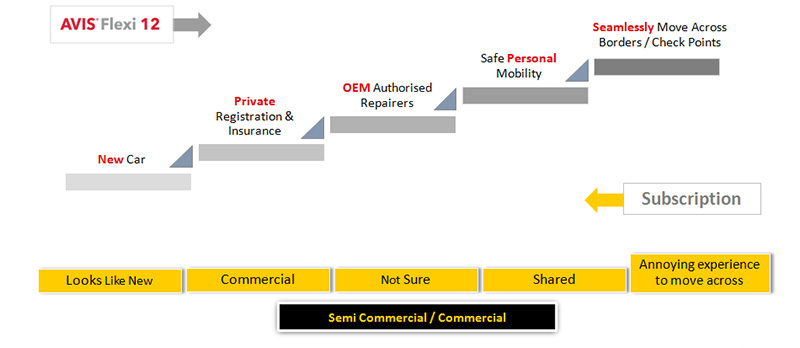 | Detail | Self Drive / Subscription | FLEXI 12 |
| --- | --- | --- |
| Age of Car | Looks like new | New |
| Odometer reading | Already driven | First User |
| Motor Vehicles Rules | Semi Commercial / Commercial | Private Car |
| Motor Insurance cover | Strict on compliance & hassles | Simple & Easy |
| Maintenance Standards | Not sure | As per OEM standards only |
| Vehicle movement | Annoying at times | Seamless |
| Service Levels | We don't know | Over 98% happy customers |
| Excess km Charges | High | Nominal |
| Option to Buyback | Not preferred | Yes |
| Extension Rates | Same | Lower |